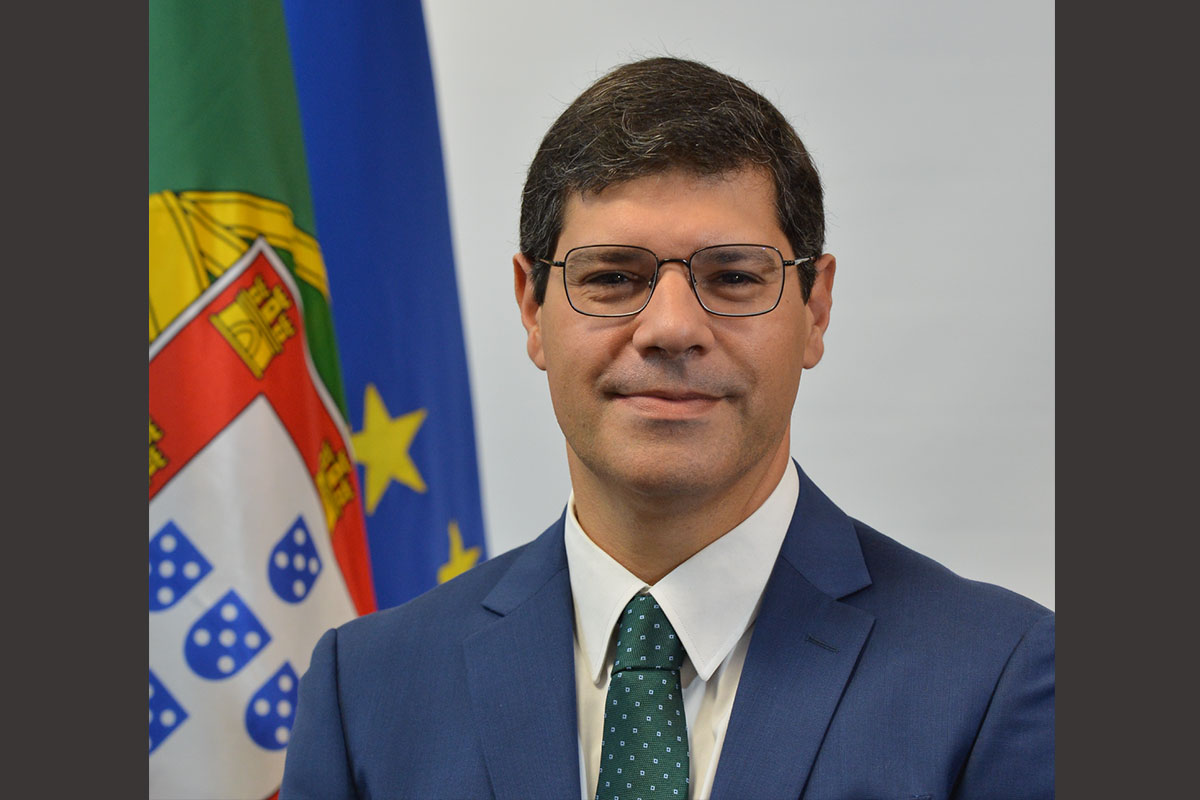 14 Oct

Pulling through an unprecedently challenging year
Eurico Brilhante Dias, Secretary of State for Internationalisation, aspires to see a robust Portuguese society, green and digital, in the imminent future
Over the last two months we have seen the world on high alert and governments taking all manner of actions to stop the pandemic. Portugal, as a nation, rose to the occasion and has received global praise for its handling of the COVID-19 crisis, especially considering how hard its neighbour, Spain, was hit. What in your opinion, were the key elements that allowed for Portugal to tackle this crisis so effectively?
The Portuguese people have complied with all the measures we, as the government, have taken thus far and the feeling of solidarity has been amazing. The response of our health care system was quite effective. It was possible to control the first wave. Afterwards, I would say that the images that we had seen from Spain and Italy were crucial in giving us the full awareness of the possible impact that we could have expected to face. Those images, the measures taken earlier and the fantastic response and behaviour of the Portuguese people were three pillars that enabled an adequate response to the pandemic in March, April and beginning of May. All the Portuguese institutions, the President of the Republic, the parliament, the current party in power as well as the opposition parties cooperated, in order to respond to this pandemic. I am proud of the way we have we have been able to respond in a quite difficult moment.
The valorisation of the Portugal brand in foreign markets is a prerogative that you have been part of for quite some time, especially with your previous work at AICEP. How do you see the Portuguese brand being interpreted by the winder world now and what are the main strategies being put in place by Portugal to reinforce its significance?
We have four features that are being recognized internationally. The first one is that Portugal is a country with political and economic stability, in that sense it is a safe country because it is stable. Our macroeconomic policies are giving investors a feeling that Portugal is taking all the steps to maintain macroeconomic stability within the euro area. Our macroeconomic policies, our national budget and our trade balance operate in order to promote investments in our country. Secondly, Portugal is a safe country, where people can live in a peaceful and inclusive way, enjoying an extraordinary life quality. Thirdly, we have human resources with a combination of capabilities and competitive cost. We are not a cheap country when you compare with other countries, but a country where our human resources are adding value to processes and products. Our universities are preparing students with fantastic programs, some of them in English as well. Our universities are quite competitive in management, engineering and other fields like math. Finally, an aspect that is interesting is how Portugal is being seen as a country where you can develop your business into partnerships and start-ups. The impact of hosting Web Summit for more than a decade is changing the way foreigners perceive Portugal as a tech hub. Lisbon, Porto, Braga and Coimbra are Portuguese cities that are nowadays investing a lot in order to develop start-up ecosystems. In last November's Web Summit Lisbon becomes the capital of start-ups. In the first edition we had people from more than 100 different countries, even from North Korea. These aforementioned features are what nowadays represent Portugal as an economy. To add to that, tourism is doing a lot for us because people are seeing the country for themselves.
In 2019, Portugal ended the year with exports representing 44 percent of GDP. In the Internationalise 2030 Program there are more than 40 measures included which aim to leverage Portuguese exports and investment, with an international campaign promoting the slogan #PortugalOpenForBusiness. What can you tell us about the main strategic facets of this project?
 We are now living through the pandemic and exports' numbers are down. Nevertheless, in the last month exports were seen growing again. Our main target is to reach 53 percent of our GDP in 2030. Firstly, we want to reach 44 percent again and our focus is to reach that target in 2023. We are doing our best in order to have more companies exporting. In 2019, it was our best year ever having exported 44 percent of our GDP. We added more companies exporting to more markets. We have a focus on new financial tools for SMEs, in order to export more to different markets, including riskier markets outside of the European Union, mainly in Latin America and Africa. Thirdly, we are building strong pillars in human resources capabilities by developing international trade strategies throughout small and medium sized companies. Later on, we are developing an important campaign in order to give more awareness about Portugal and what we can offer to world markets. We feel that in many parts of the world and the reality of the Portuguese economy is not well-perceived. We are going to invest a lot in not only the diplomatic field, but also using great case studies to show how the Portuguese economy has evolved in recent years. We are also investing in creating a tool box with the partnership of business associations and companies to identify bottlenecks they face when dealing with Portuguese public administration.
The approval of the technological and business innovation strategy for Portugal 2018-2030 shows the government's commitment in using innovation as the engine of the country's economic growth, stimulating higher levels of productivity. Could you please elaborate on what are the main pillars to this strategy?
Digital transformation is crucial. One of its effects is the transformation of business models. We are investing a lot in communications. 5G is a priority and the work to install fibre optic across the country is underway. We need to have more people trained in how to participate in this transformation from primary school to universities. And after the universities we are creating a program to reskill many Portuguese with the relevant capabilities to participate in this transformation. At the same time. We try to keep promoting the start-up ecosystem to be more innovative and create new businesses with novel business models.
You were mentioned saying that 'The current Industrial Revolution in progress is the first that happens at the same time for everyone, in which location is not a determining factor and in which talent, creativity and innovation are the capacities that will differentiate the winners from others. What can you tell us about the impact of the convergence of the circular bio economy and digital transformation 4.0?
We have a fantastic opportunity in our hands, because Portugal is becoming part of wider value chains. Large companies, like Google, Microsoft, Cisco, Mercedes and BMW, have selected Lisbon and Porto as good locations to invest in engineering and share service centres. Those engineering centres are part of the global value chain. We are creating value simultaneously with their locations in Munich, Chicago, New York, London and so on. We are developing more sustainable processes in Portugal, through the investments we are doing in green energy, our hydrogen strategy, or the plans on solar, wind and hydro energy.
In spite of its significant progress, Portugal stands as a 'moderately innovative' country in the context of the European Union (EU), as aspects to reinforce the promotion mechanisms of R&D and collaborative innovation. In which key areas of the economy should Portugal focus its resources to elevate its position within the EU?
Portugal has been considered an 'strong innovator' in the 2020 European Innovation Scoreboard, published in last June. Portugal in now the 12th most innovative country in Europe, going up 6 positions in one year. Between 2012 and 2019, our country has moved from a position of 84 percent to 105 percent of the EU average. In 2019, Portugal shows the highest positive difference to the EU in Total Entrepreneurial Activity, FDI net inflows and Enterprise births. It is important to say that even during the pandemic many companies selected Portugal as a location to invest. We received a large influx of inquires in the automotive sector, pharmaceuticals and the footwear industry. These inquiries would only be made by businesses, if they determined that our location is the most effective for their operation.
In our interview with Minister of Environment and Climate Change, Mr. Joao Pedro Matos Fernandes, he mentioned the fact that Portugal has all the correct ingredients to lure high skilled remote workers from across the globe. Due to the pandemic accelerating the shift of more people working remotely there will be more opportunity for younger more mobile people to shift to a jurisdiction that favours their lifestyle. What factors make Portugal a compelling place for remote workers?
We are safe, stable, well-connected with great telecommunications and two international transport hubs. We are an effective and efficient location for the remote working community. That is why I suppose many people are buying apartments and houses in the south of Portugal, near Lisbon, and even in Porto. Compared with other cities in Europe we also have a lower density of inhabitants.
In order to conclude, please share with the global readers of Newsweek a message of optimism and reassurance about Portugal and the rebooting of its economy?
During the last two years, we have beaten all the records in terms of attracting FDI. The years of 2018 and 2019 were unprecedented. In 2019, our trade investment agency set a record of EUR 1 Billion only in new contracts. When we look at global FDI reports, Portugal is earning market share every single year. The features that were important to investors in 2018 and 2019 are here in Portugal. The same dynamic has been noticed in terms of Portuguese exports. In 12 years, we have raised our percentage of exports on GDP from 28 percent to 44 percent, which means that our products and services are more internationally recognized, based on quality, design, fashion, environmental concern and differentiation. The COVID-19 crisis did not destroy these factors. Our economy, our enterprises are open and ready to give the world excellent products and services.